Seafood
Grilled Trout Salad
---
Behind the Recipe
Chasing the Feeling of that First Bite
It was cold, that first day on the river by my lonesome. I wasn't catching diddly squat, and I was ready to return to camp with an empty cooler. Before throwing in the towel, I had a moment… There I was, alone among the mountains, surrounded by the deep greens and snow-capped peaks of the Rockies. Fish or not, the grandeur of it all brought a toothy grin to my face. And I swear to this day, it was at that moment I felt the tug on my line.
Whether your fish is fresh from the stream or straight from the store, this Grilled Trout Salad recipe is a delicious, not-too-heavy course you can bring home and make your own.
As seen in Beyond the Flame with Maddie Brenneman.
Ingredients
Trout


2 filets, one whole fish
1 lemon
2 sprigs rosemary
Salt and pepper
Salad


4 cups salad greens, such as arugula, mesclun, red leaf romaine or baby spinach
1 cup mixed herbs, such as parsley, basil, oregano, chives or cilantro
½ cup sunflower sprouts
½ cup grape tomatoes
Dressing


½ cup extra virgin olive oil
¼ cup balsamic vinegar
1 garlic clove
1 tbsp. sugar
1 tsp. Dijon mustard
1 tsp. tarragon
Preparation
---
Trout
Season trout with salt and pepper.
Slice lemon into rounds.
Top trout with lemon and rosemary.
Salad
Fill your sink with cool water.
Toss in salad greens and gently wash until all dirt falls to the bottom of the basin.
In salad spinner, spin greens until dry.
Place greens into large salad bowl, adding tomatoes and sprouts.
Dressing
Chop onions.
Mince garlic.
Combine and mix olive oil, balsamic, garlic, sugar, mustard, and tarragon.
Grill trout over high, direct heat to prevent filets from sticking.

Grill for 8 minutes per inch of thickness, cooking the first side slightly longer than the second.

Once done, let cool for 10 minutes.

Use a fork to pull apart filets.

Add grilled trout to the salad bowl mixture.

Top salad with dressing and serve.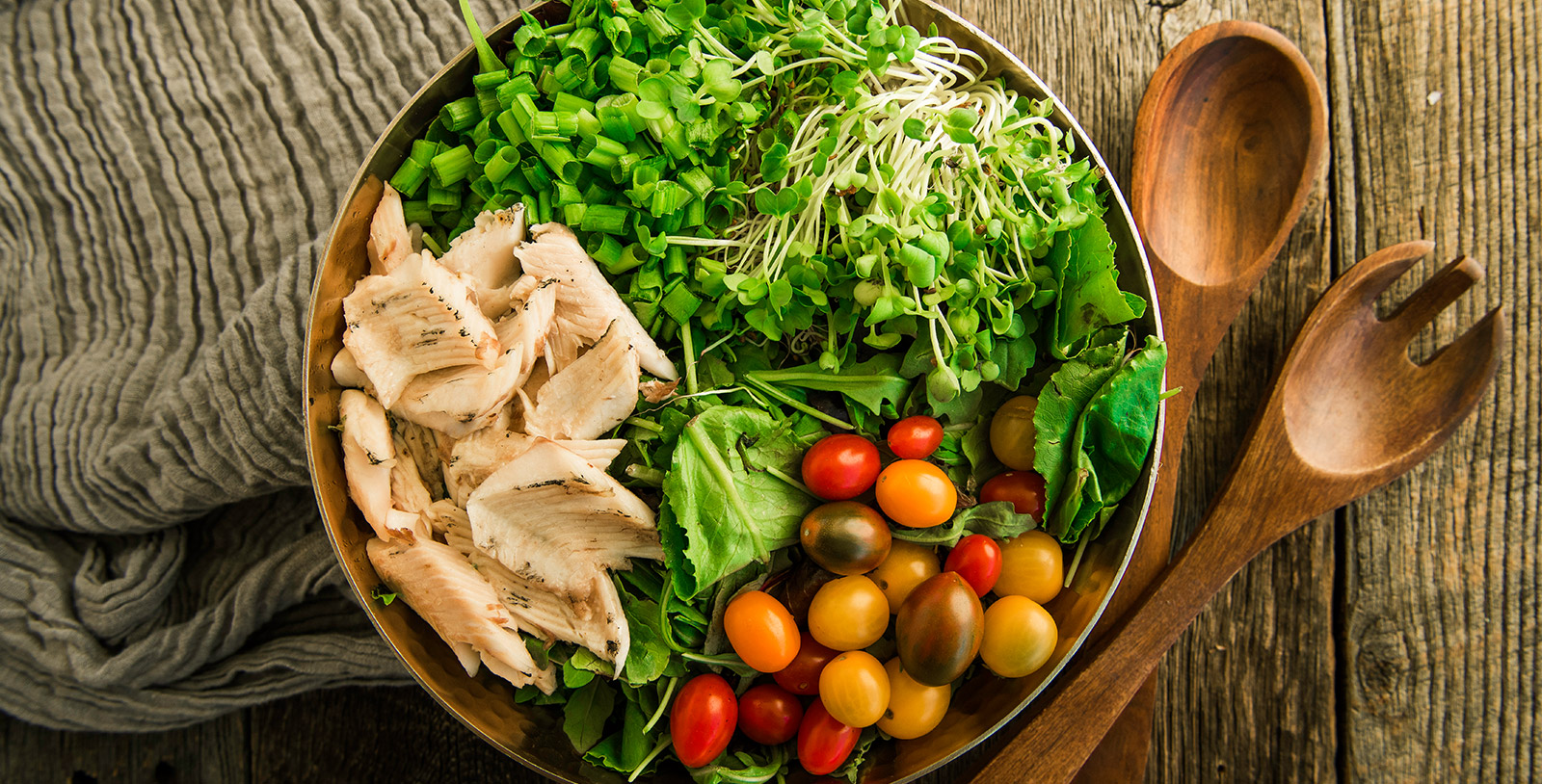 Let's be friends!
If you don't already, follow us on social media and fill us in on all your grilling adventures using #HungryForDifferent. We promise to keep you up to date with all our latest grill tips, stories, recipes, and more—everything you need to stay satisfied between cookouts.
Try Pairing It With These Other Recipes
---
Everything You Need To
Make This Recipe
---