---
Behind the Recipe
It Was Game Day.
Not just for the guys in the locker room, but for me too. For months, I'd been trying to win over my girlfriend's dad. I cracked jokes. I shovelled snow. I even covered the bill one evening at dinner, and nothing! I was racking my brain when it finally hit me… it was so simple, how had I not thought of it before?
I arrived at his house for the Big Game with a cast iron pan, a bag of his favourite tortilla chips, and all the fixings for my Mom's famous Grilled Cast Iron Nachos. It was halftime when I pulled them off the grill. Minutes later, I saw him hovering over the skillet, peeling away layer after layer of cheesy nachos–the same way I was peeling away layer after layer of his cold outer shell. He still didn't speak much that day, but I could tell by the look in his eye… I had earned his respect.
Ingredients


1 large bag Tortilla chips
450g. Sharp cheddar cheese, shredded
1 tin Black beans, rinsed and drained
2 cups Carnitas
1 Jalapeno thinly sliced
1 Fresno chili thinly sliced
Pico de gallo (salsa)

1 large Avocado, cut into chunks
Salt
Lime
Sour Cream
Coriander
Preparation
---
Preheat the grill to medium-high heat, about 200 degrees.
Put 1/3 of the tortilla chips in the bottom of a 10" cast iron skillet . Cover with 1/3 of the cheese and 1/3 carnitas. Repeat 2 more times until all of the cheese and chips have been used.
Pour beans onto the chips and carnitas, and sprinkle chilis over the top.
Place the skillet full of nachos on your grill and cook with the lid down for about 5-7 minutes until the chips are hot and golden and the cheese is melted.

Top with avocado, sour cream, pico de gallo and fresh coriander. Serve immediately with salsa and lime wedges on the side!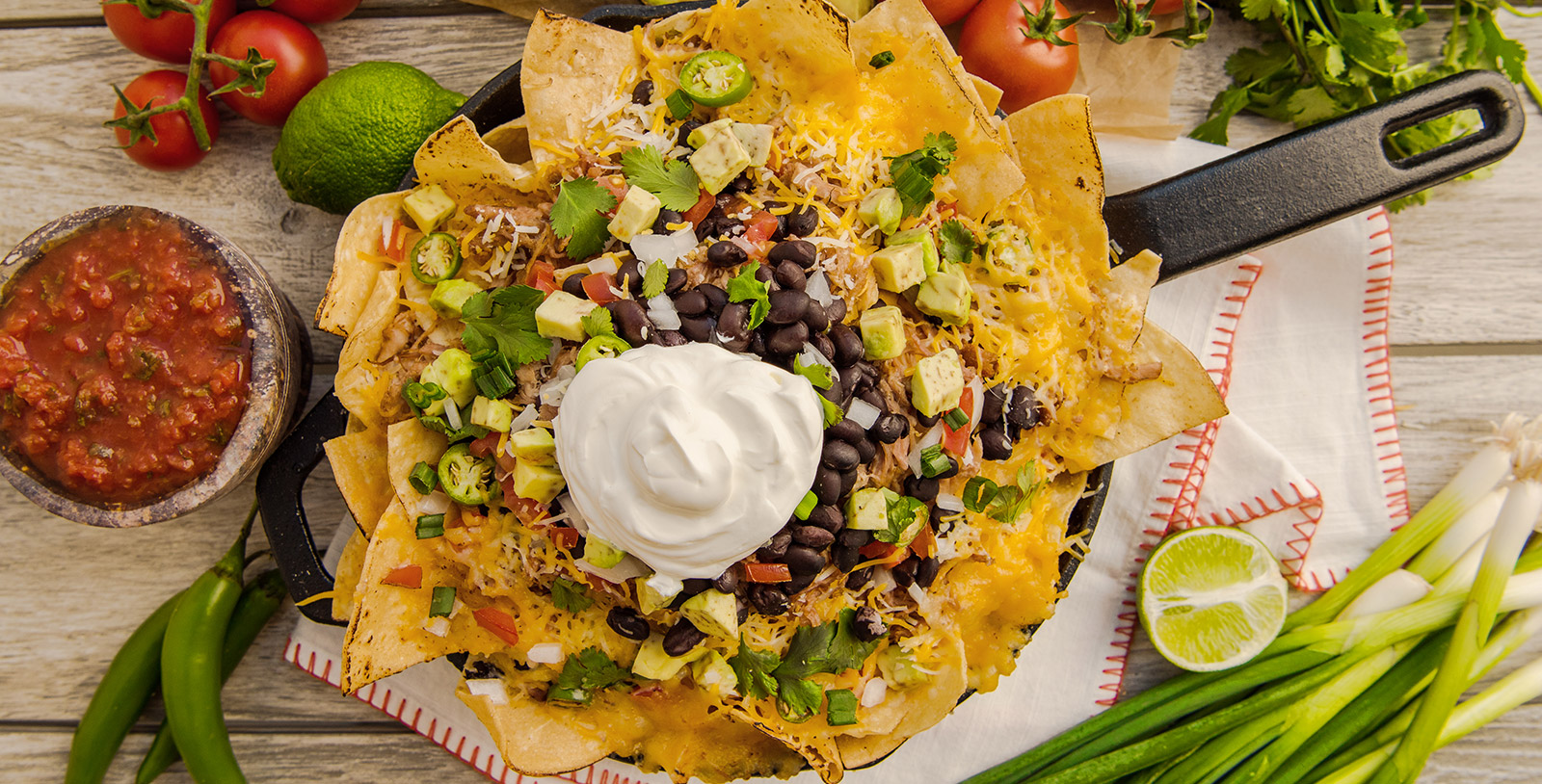 Let's be friends!
If you don't already, follow us on social media and fill us in on all your grilling adventures using #HungryForDifferent. We promise to keep you up to date with all our latest grill tips, stories, recipes, and more—everything you need to stay satisfied between cookouts.
Try Pairing It With These Other Recipes
---
Everything you need to
Make this recipe
---