Cook Time

1 hr and 10 min
---
Behind the Recipe
I Guess You Could Call Me an "Anglophile."
My Union Jack tattoo, my Monty Python box set, and my ride-or-die attitude towards a certain grocery store tea brand – all part of a heart stranded on the wrong side of the Atlantic.
Most nights you can find me heating up frozen fish sticks after a violin gig at this little British pub in Southern Oregon. Last night though, I was craving something real. There's nothing more authentic than a classic shepherd's pie, or more comforting than the scent of grilled beef on a cold day. So, I thumbed through Nanna's cookbook, pulled out my trusty cast iron, and invited a few musician friends over for a proper sit-down meal.
All night, my guests kept toasting me in their worst cockney accent. It was a riot, and exactly what I needed.
Ingredients
For beef mixture


1 tbsp olive oil
35g ground beef lean
1/2 tsp salt to taste
1/2 tsp pepper to taste
1 large onion, chopped
1 clove minced garlic
1/2 tsp red pepper flakes
2 tbsp Worcestershire sauce
53g onion soup mix
1 cup beef broth
2 cups frozen veggies: peas, carrots, green beans and corn
For potato mixture


6 large potatoes peeled and cut into cubes
4 tbsp butter softened
2/3 cup milk
1/4 cup Parmesan cheese
1/2 tsp salt to taste
1/2 tsp white pepper to taste
1 tbsp parsley fresh, for garnish
Preparation
---
Boil the potatoes for around 15 minutes or until they are soft.
Drain and place in large bowl.
Add in butter and mash until smooth.
Add in milk, parmesan cheese, salt and pepper, and mash again.
After meat mixture has been cooked as instructed below, cover it with your finished mashed potatoes.
If you wanna get really fancy, smooth it on with a spoon, then take a fork to add some texture.
Preheat the grill to 180 degrees.

While the potatoes are boiling, place a skillet on the grill and add oil.

Add the ground beef to the skillet and season with salt and pepper. Cook for about 5 minutes or until no longer pink, breaking the meat up as it cooks.

Add in the garlic and the onion, and cook another 3 minutes. The onion should become clear and limp.

Add the pepper flakes, the Worcester sauce, the onion soup mix, and the beef broth. Stir thoroughly.

Stir in frozen veggies and cook for a few more minutes, then take off heat and set aside.

Follow instructions above for potato mixture.

Place constructed pie back on the grill and cook for 40 minutes or until golden brown on top.

Garnish your shepherd's pie with parsley and serve.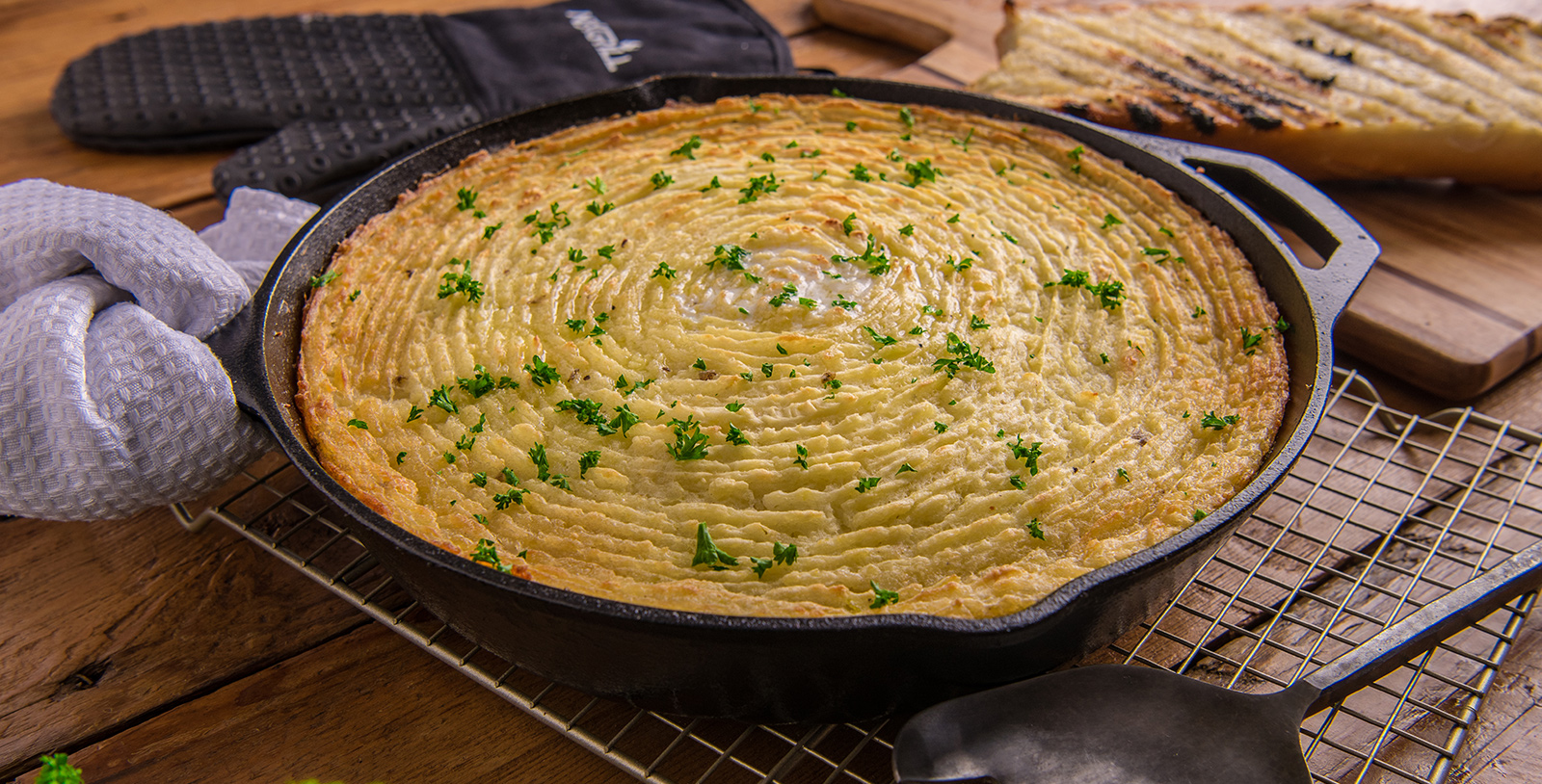 Let's be friends!
If you don't already, follow us on social media and fill us in on all your grilling adventures using #HungryForDifferent. We promise to keep you up to date with all our latest grill tips, stories, recipes, and more—everything you need to stay satisfied between cookouts.
Try Pairing It With These Other Recipes
---
Everything You Need To
Make This Recipe
---