Grilling
Grilled Venison Tenderloin Hoagies
---
Behind the Recipe
Something Other Than Grand Dad's Deer Jerky
Anyone who's grown up in a hunting family knows it's easy to get burnt out on venison. As a kid, it was either venison steak or stew for weeks after a hunting trip. Looking back now, it seems crazy we weren't more adventurous with our recipes. I have enough mouthwatering takes on venison to fill a book. In fact, this would probably be page 1.
Hunter or not, here's your chance to try something different with venison. These tenderloin hoagies are just as tasty at home as they are in a blinder.
As seen on Beyond the Flame with Lukas Leaf
Ingredients
Sandwich:


2 venison tenderloins
1 medium red pepper, sliced
1 medium yellow pepper, sliced
1 medium poblano pepper, sliced
1 serrano chili, sliced thin
5 large cloves garlic, sliced
1 large yellow onion, sliced
8 oz. wild mushrooms (chanterelle, porcini, or lobster)
6 oz. bleu cheese (or gorgonzola)
Stone ground mustard
1 tbsp. canola or vegetable oil
1 tbsp. butter
Kosher salt
Cracked black pepper
1 large loaf soft French bread (or 4-6 hoagie buns)
Marinade
2 tsp. ground cumin
2 tsp. smoked paprika
1 tsp. cracked black pepper
2 tsp. ground ancho chili
2 tsp. kosher salt
1 tsp. canola or vegetable oil
Preparation
---
Place tenderloins in sealable bag with marinade ingredients. Mix marinade with tenderloins until evenly distributed. Allow to marinade overnight.
In a large cast iron pan, heat canola oil until smoking. Once smoking, add peppers, onion, and mushrooms and cook on high heat, stirring occasionally, for 5-7 minutes or until veggies char on edges. Add garlic and butter, cook 3-4 more minutes. Set aside.

Grill venison tenderloin over high heat for 2-3 minutes per side, or until medium-rare. Set aside and let rest.

Place the cast iron with peppers and onions back on heat while charring bread on the grill grates. Add bleu cheese to mixture and toss while cooking until just beginning to melt. Remove charred bread from grill.

Slice tenderloin into quarter-inch wide slices and place on bottom half of hoagies. One sliced tenderloin per sandwich. Add pepper and mushroom mixture on top. Smear generous amount of mustard on top half of bun, assemble, slice in half if desired, and enjoy!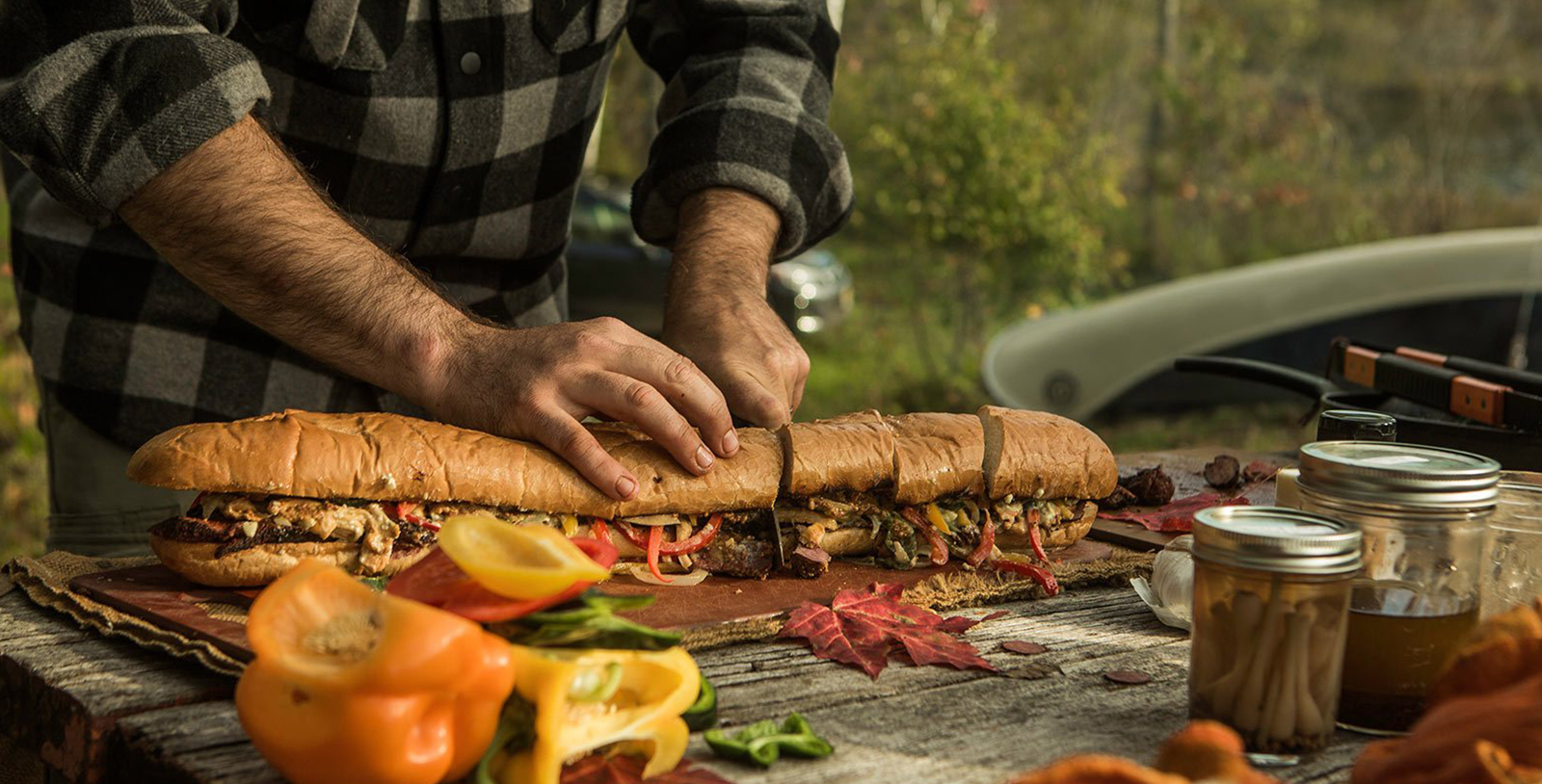 Let's be friends!
If you don't already, follow us on social media and fill us in on all your grilling adventures using #HungryForDifferent. We promise to keep you up to date with all our latest grill tips, stories, recipes, and more—everything you need to stay satisfied between cookouts.
Try Pairing It With These Other Recipes
---
Everything You Need To
Make This Recipe
---