Chicken
Maple Butter Chicken
---
Behind the Recipe
Five Nights in Nova Scotia
I was up in Canada with a few friends, fishing for shad on the Annapolis River. For four nights straight, we ate fresh-caught American shad around the campfire, picking through the bones as best we could. Don't get me wrong, there's nothing like the taste of a fresh catch, but by day five, our tastes buds were begging us for something different. So, we packed up, and set out to find a meal with little more Canadian influence. Who would've guessed the best meal on our fishing trip would be chicken?
A little sweet, a little savoury, and a whole lot of different. Feed your appetite with this recipe for Maple Butter Chicken.
As seen in Beyond the Flame with Maddie Brenneman.
Ingredients
1 whole chicken, patted dry and butterflied
1 stick unsalted butter
4 tbsp. maple syrup
2 sprigs rosemary
1 tbsp. salt
1 tbsp. pepper
1 lemon
Preparation
---
Butterfly whole chicken

Place whole chicken on a cutting board.

Starting with the tail area, use Nexgrill BBQ Grill Shears to cut up from one side of the spine all the way up to the neck. Then, cut out and fully remove the backbone so the chicken lies flat.
Once you've removed the backbone, open up the chicken with the skin side up, flattening it out as much as possible. Using your palms, press down firmly on top of the breast to flatten even more. If you hear a crack, you're doing it right.
Tuck the tips of the wings behind the breasts so they don't burn on the grill.
Now your chicken is grill-ready.

Slice lemon and squeeze juice onto chicken.
Season chicken with salt and pepper.
In medium sauce pan, melt butter and combine with maple syrup.
Add rosemary to sauce mixture.
Preheat the grill to medium heat.

Place chicken on the grill skin side down, grilling until the fat renders and the skin becomes golden-brown and crisp. Should be about 15 minutes.

Flip the chicken, close the cover, and continue grilling until just cooked through. About another 20 minutes.

Generously baste chicken with maple-butter sauce.

Leave chicken on the grill for another 10 minutes, or until the sauce begins to caramelize.

Remove chicken from the grill and let rest for 10 minutes before cutting.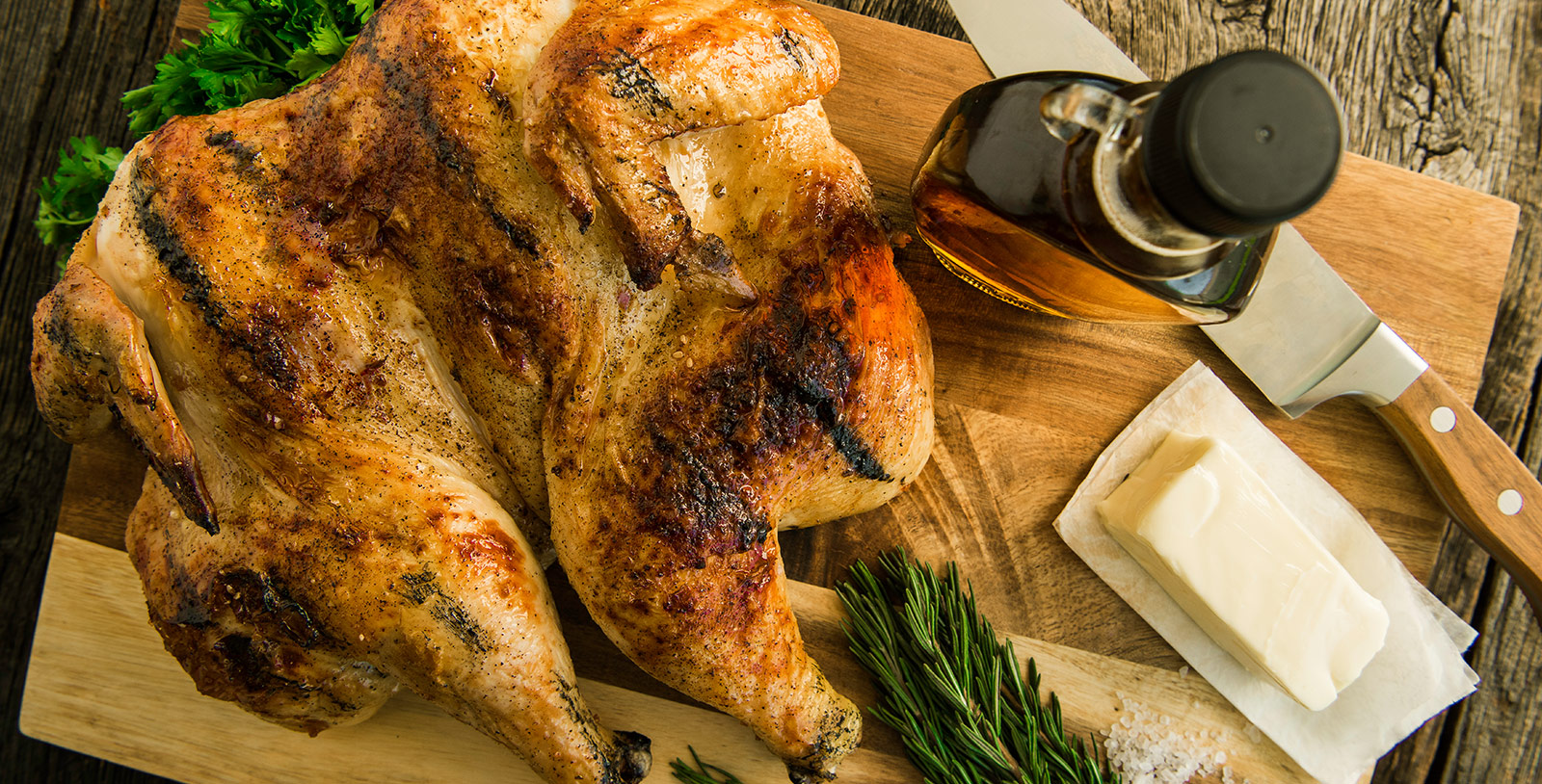 Let's be friends!
If you don't already, follow us on social media and fill us in on all your grilling adventures using #HungryForDifferent. We promise to keep you up to date with all our latest grill tips, stories, recipes, and more—everything you need to stay satisfied between cookouts.
Try Pairing It With These Other Recipes
---
Everything You Need To
Make This Recipe
---