St. Louis, Missouri
Matt Martin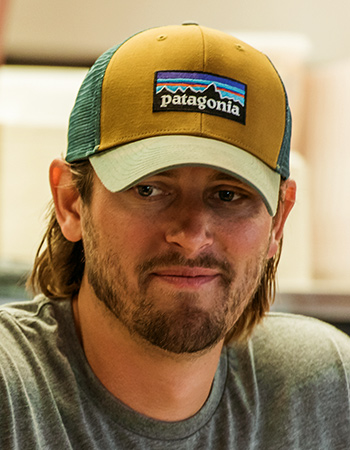 Always Making Something Different
I went to shake Matt's hand when I noticed what he was working on. It was a drawing. "The day's specials," he said. "This one's a tribute to one of our favorite blues musicians. It's Gary Clark Jr.'s "Blak and Blu" Chicken Club with smoked and blackened chicken, blue cheese, and sautéed onions and peppers."
This is something they do almost every day: come up with a daily special, and get creative with a name. Usually, it was an ode to one of their chefs, favorite celebrities, or local St. Louis sports figures.
Matt pointed to a crate full of past specials–hundreds of drawings organized by meat. There were pork specials, brisket specials, and rib specials. Smoked turkey specials, chicken specials and seafood specials.
"We post 'em on social media. People like to see us having fun," he said, before his mind wandered off, "…wonder if Gary would see this if I tagged him."
Always Making Something Different
As you look around Sugarfire, it's clear that they do things a little differently than your average BBQ joint. From specials like a deep-fried powdered sugar sandwich with smoked ham and turkey, to the awesome lineup of house-made BBQ sauces on each table (including one called Honey Badger), the restaurant has distinguished itself as one of the most creative in the Midwest.
After putting his finishing touch on the daily special, Matt led me out back to show me the industrial smoker–a huge pit burning a cherry wood blend and filled with brisket. Every morning at 6AM, one of the pit masters would arrive early to check temps and oversee the smoking process. "We've got it down to an art," he boasted.
West on I-70, Straight to COMO.
The atmosphere was buzzing with hungry lunch goers a white truck towing a smoker on wheels pulled into the restaurant's parking lot. It was time to load up and hit the road. Matt and his crew were bringing Sugarfire two hours west to set up for the annual Roots N Blues N BBQ Festival in Columbia, Missouri.
The Roots N Blues N BBQ Festival
The Roots N Blues N BBQ Festival started in 2007, with headliners like North Mississippi Allstars and blues man, Tab Benoit. In the years since it, it would draw larger and larger crowds of music and food lovers to the mid-Missouri college town.
As it grew in popularity, the festival was moved from downtown Columbia to Stephen's Lake Park, where two huge stages are rocking for three straight days of performances. This year, the artist lineup featured Leon Bridges, Band of Horses, Ryan Adams, and wouldn't you know it… Gary Clark Jr.
The Crew in Columbia
From the festival entrance, you could look down to see rows of vendors and tents set up between the stages.
"We put the BBQ in the middle to catch people walking between shows," Matt said grinning.
On one side of the Sugarfire tent stood a long table with all of their specialty sauces and a trophy displayed proudly. It was from the 2015 World Championship Barbecue Cooking Contest during Memphis in May.
On the other side of the tent, Matt and his crew were hard at work prepping for the hordes of hungry music lovers that were coming.
There was Danny, a sarcastic dude who was cool enough to laugh at every dumb joke I cracked.
There was Rob, a bearded fella who kept insisting I eat another brisket or turkey sandwich.
There was Justin, the pit master, a quiet guy who was working his tail off behind the scenes (and kindly tolerating the camera we kept shoving in his face).
Then there was Skip, the head chef and O.G." of the group. Skip wore beat up Crocs, a permanent smirk on his face, and was always ready with a quick quip or a dirty joke.
And of course, Matt. Who schmoozed every customer while yucking it up with his buddies behind the scenes.
As the music kicked in and the evening rolled on, lines of festival goers formed outside the tent, hungry for a taste of smoked brisket, turkey and ribs. When he wasn't stirring mac 'n' cheese, Skip was carving brisket at a blistering pace, passing it to Danny to put on a bun, wrap and get out the door.
These guys were working their butts off. By the end of the three-day festival, they would dished out 250 racks of smoked ribs, 45 pork butts at about 6lbs. apiece, and close to 50 briskets. And yet, there was a relaxation to them. Among the music, the Missourians and the electric atmosphere, there was no sign of stress.
"It's nice to have something to tap your foot to when you're carving brisket," said Matt.
These boys were at home.
As Luck Would Have It
As nighttime fell, all Matt could talk about was how excited he was to see Gary Clark Jr. play. How he hoped the guitar savant had seen the Instagram post with the "Blak and Blu" special.
It was minutes later, behind the Sugarfire tent, when a tour bus rolled up, and out stepped a silhouette wearing a Brixton Messer Fedora. It was him, right there, in the flesh. Gary Clark Jr. The one it had all been for.
Most people might be shy in a situation like that, but Matt didn't miss a beat. He approached the fence yelling out, "Gary! Hey Gary!" He managed to get his attention long enough to tell him about the blackened chicken special, and ask for his autograph.
Matt walked back to the tent smiling ear to ear. Beaming, he showed off the Sugarfire hat signed by Gary. He was already a fan. Now he was a bonafide fanatic.
The guitarist was shredding, and the crowd was electric. The set hadn't been going long when Matt and his crew were in full swing–shuffling their feet and hollering out requests like "Play Numb! Come on Gary, play When My Train Pulls In!"
I admit, I was too mesmerized by how he was working the fretboard to notice that Matt had walked off. All I knew was I was alone in a crowd of raving fans, and feeling right at home.
Later on, Matt confessed where he'd run off to… "When Gary got up there, one of the security guards that we snuck a turkey sandwich to was able to sneak us backstage for one song. It was awesome!"
Lucky son of a gun.
Bringing the Creativity Back Home
The next morning, I was packing up to go home when I got a call from Matt. "Hey, we're having some friends over for a BBQ at my place tonight. You wanna join us?"
Like how the Nexgrill Deluxe 6-Burner Propane Gas Grill looks? Make it yours here.
I was impressed. I mean… his restaurant has beaten Bobby Flay, won at Memphis in May, taken home countless local food and restaurant awards, and after three straight days of BBQ smoke and blues music, this dude still can't keep himself away from the grill.
When I brought this up he said cooly, "I definitely get a lot of inspiration while I'm at work, being around all the culinary talent that we have. Sometimes I'll take those things home with me and duplicate them, pretend like they're mine, and try to impress my wife."
Not Your Average Backyard BBQ.
Matt's wife, Danielle, greeted me at their front door and invited me in. From the kitchen I heard Matt holler, "Come on in. We're just prepping. You hungry?"
Inside, he was removing a tray of Portobello mushroom caps soaked in balsamic from the refrigerator. On the counter, he had mixed diced onion into some 80/20 burger patties, and was getting ready to fire up his grill.
Want to make Matt Martin's Porto Burgers? Click here for the full recipe.
That evening, I learned there's a work BBQ Matt and a home BBQ Matt, but there's always a BBQ Matt… the consummate host.
It reminded me of something he said the first day I met him. "There's no big secret to BBQ, you know? It's meat, it's seasoning, it's time, it's temperature with smoke and heat. It's people taking care of people."
The whole weekend ended much like it began, with Matt Martin inviting me in, cooking up something different, and serving it up with a big ol' grin on his face.
Many thanks to Matt, Danielle, the Roots N Blues N BBQ Festival, and the crew at Sugarfire for welcoming me with open arms.
Let's be friends!
If you don't already, follow us on social media and fill us in on all your grilling adventures using #HungryForDifferent. We promise to keep you up to date with all our latest grill tips, stories, recipes, and more—everything you need to stay satisfied between cookouts.
Make The Same Delicious Recipes
---
From the Story
Explore our products
---