---
Behind the Recipe
My Mother's the Cheapest Person I Know.
I'm serious. I've seen her ask a 3-year-old for her 25 cents in change at a lemonade stand. Needless to say, I almost had a heart attack when she offered to pay a local restaurant an obscene amount of money for their Indian Chicken recipe. I knew it had to be good, so I asked her for the recipe. And yes, she made me pay her for it.
This recipe delivers a taste of India right to your table at home. Whether you're enjoying a quiet night in or entertaining a dinner party, this dish will do its job.
Ingredients
1 whole chicken
1 tsp. cardamom
1 tsp. yellow curry
¼ cup lime juice
1 tsp. garlic powder
1 tsp. onion powder
1 tsp. fennel seeds
Preparation
---
Butterfly whole chicken

Place your whole chicken on a cutting board and grab your Nexgrill cutting shears
Start with the tail area and cut up on either side of the spine, all the way up to either side of the neck. Then cut out and fully remove the backbone so the chicken starts to lie flat.
Once you've taken out the backbone, open it up with the skin side up and flatten it as much as possible. Using your palms, press down firmly on the top of the breasts to flatten it even more. You will hear a crack, which means you're doing it right.
Tuck the tips of the wings behind the breasts so they don't burn on the grill.
Now your chicken is ready for the grill

Combine cardamom, yellow curry, lime juice, garlic powder, onion powder and fennel seeds in large mixing bowl and mix until a paste is formed.
Preheat the grill to a medium heat.

Place the chicken on the grill, skin side down and slowly grill until the fat renders and the skin becomes golden brown and crisp, about 15 minutes.

Turn the chicken over, close the cover and continue grilling until just cooked through, about 20 minutes longer.

Baste the chicken with your spice paste thoroughly.

Let the chicken sit for another 10 minutes on the grill until the paste begins to caramelize.

Remove chicken from the grill and let rest for 10 minutes before cutting.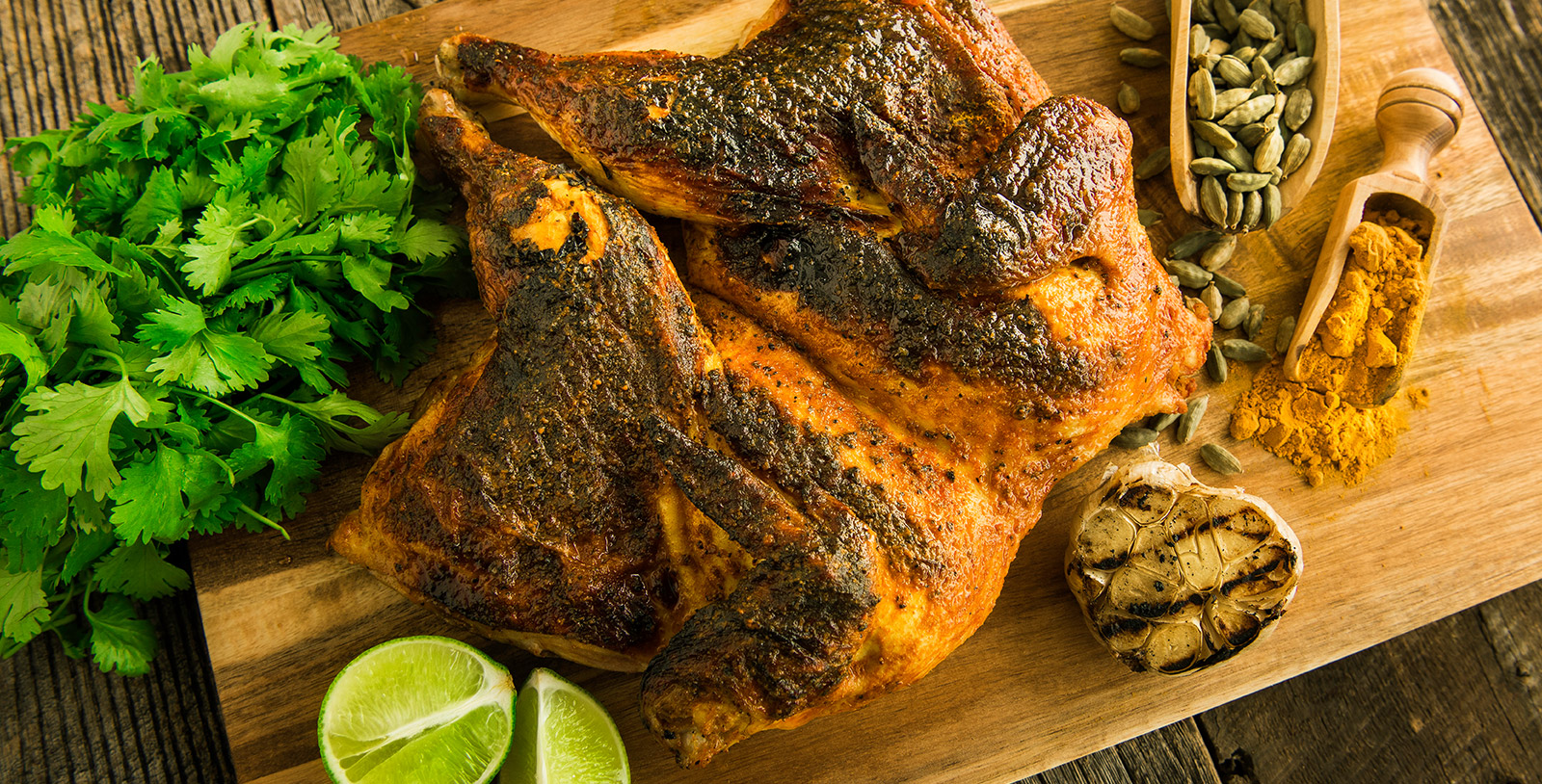 Let's be friends!
If you don't already, follow us on social media and fill us in on all your grilling adventures using #HungryForDifferent. We promise to keep you up to date with all our latest grill tips, stories, recipes, and more—everything you need to stay satisfied between cookouts.
Try Pairing It With These Other Recipes
---
Everything You Need To
Make This Recipe
---