Sides
Loaded Baked Potato
---
Behind the Recipe
Hot, Comforting, Cheap & Simple. My Kind of Date.
Since moving on from college, I haven't exactly been tearing up the single's scene. Of course, that may have something to do with the fact that I'm still looking for my first job. Once the pay cheques start rolling in, things will take care of themselves.
Until then, I like finding ways to skimp on the grocery bill w/out skimping on taste and portions. In a weird way it challenges me to pick myself up and find a way to eat big without spending a lot of money.
That's why I'm shouting out to potatoes. They're affordable, easy to make, and you can't go wrong any way you fix 'em. This is my all-time favourite way to dress a spud: the truly loaded baked potato.
Ingredients
Here's everything you need to make this recipe:
4 russet potatoes
1/2 cup sour cream
60g cream cheese, softened
2 - 4 tablespoons chicken broth, as needed
170g chopped broccoli florets, steamed
1 cup medium cheddar cheese, grated
1 green onion, sliced
8 slices cooked bacon, crumbled
Preparation
---
Preheat your Nexgrill to 190 degrees
Pierce potatoes all over with a fork.
Place potatoes directly on grate and cook through until nice and soft. (around 60-70 minutes.)

After cooking through once, pull from the grill, cut potatoes in half, and scoop out insides into a bowl.

Place the potato shells on a cooking sheet and set aside.

Mix cream cheese and sour cream into the bowl with potatoes, and mash with a fork until blended.

Stir chicken broth in slowly, stopping when you've reached the consistency you want.

Mix in the broccoli, green onion, bacon crumbles, and one half of the cheddar cheese.

Evenly divide the mixture between the 8 potato shells.

Sprinkle the rest of the cheddar cheese over the filled shells.

Place the filled shells back on the grill until cheese has melted and insides are warm.

Serve 'em up hot!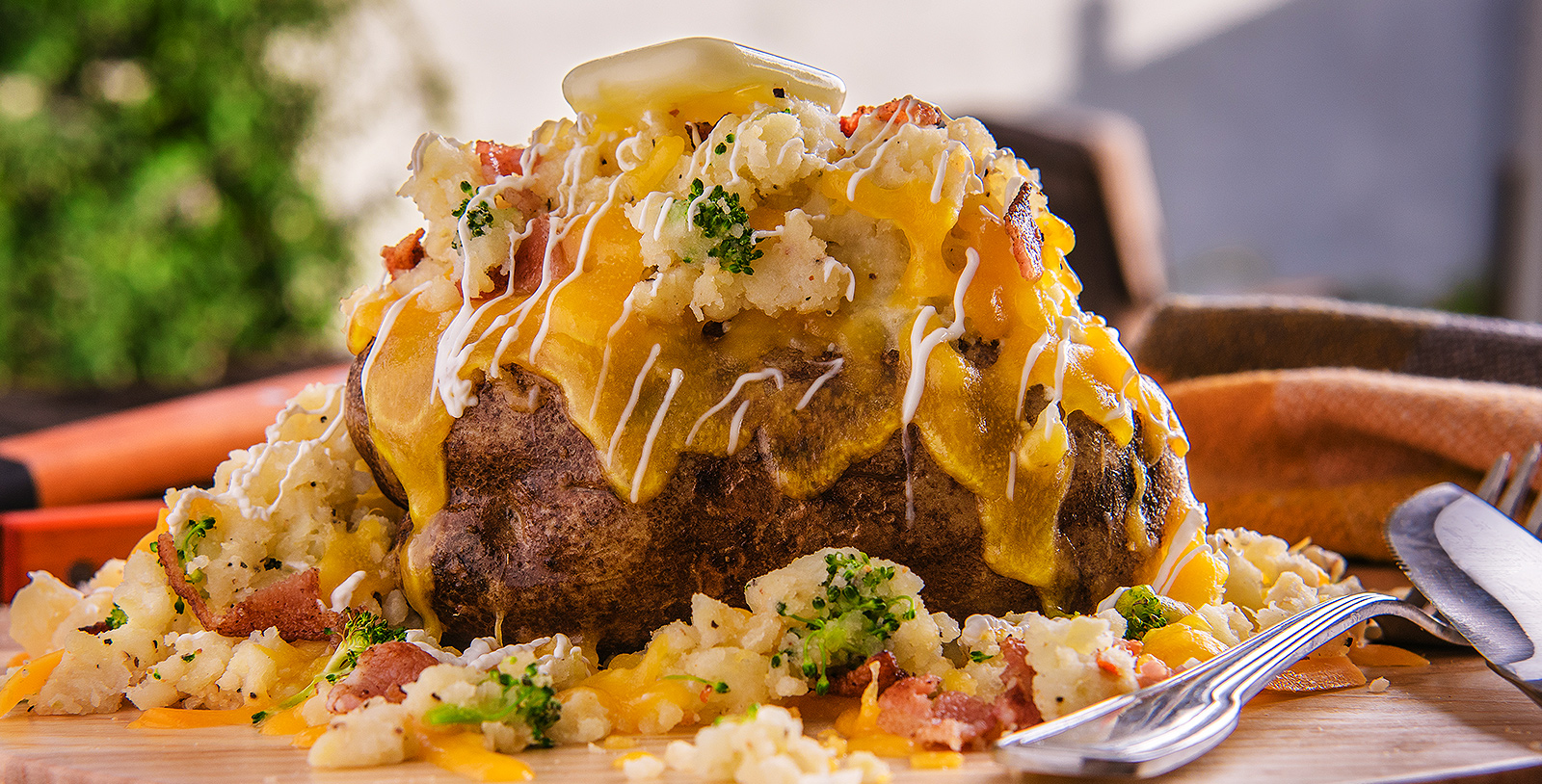 Let's be friends!
If you don't already, follow us on social media and fill us in on all your grilling adventures using #HungryForDifferent. We promise to keep you up to date with all our latest grill tips, stories, recipes, and more—everything you need to stay satisfied between cookouts.
Try Pairing It With These Other Recipes
---
Everything You Need To
Make This Recipe
---