Beef
Red White and Bleu Burger
---
Behind the Recipe
"Why is Bleu Cheese so Blue?"
"Because its life is crumbling!" That joke never once got a laugh, but it didn't stop my Great Uncle Ted from telling it every Memorial Day. That man loved him some bleu cheese. Sometimes he would call it le fromage bleu and tell all the kids how he discovered it in France during World War II… bless his soul.
He used to grill up these juicy burger patties, stuffed with bleu cheese. Great Aunt Carol keeps up the tradition now, and every Memorial Day we can count on a barbecue at Carol's, filled with blue cheese, old stories, and that same tired joke. Just in case Old Uncle Ted is listening in.
Ingredients
Here's everything you need to make this recipe:
680g of ground beef, 85/15
454g blue cheese crumbles
1 bell pepper, red
1 tablespoon olive oil
1 teaspoon salt
1 teaspoon pepper
230g of thick-cut peppered bacon
4 brioche hamburger buns
1 tomato, sliced
1 head of lettuce
1 red onion, sliced
Preparation
---
Preheat your Nexgrill. Set up half the grill for direct heat, the other half for indirect heat.
Coat the bell pepper with olive oil, and pop it over high heat. Cook 2-4 minutes per side, then take off the grill and let cool.
Divide your beef into 8 uniform portions.
From half of these sections into flat patties.
Form the remaining half of your sections into little wells. These patties should be flat, but have a raised lip around the edge. You'll eventually be topping the little bowls with the totally flat patties.
Grab your cooled pepper and remove any blackened skin. Throw out the stem and the core. Make sure you get all the seeds out.
Dice the pepper.
Distribute the pepper and bleu cheese crumbles evenly between your 4 well-shaped patties.
Sprinkle a little salt and pepper over them.
Top each stuffed patty with a flat patty, pinching the edges closed so that your burger fillings are fully encased in meat.
Sprinkle on some more salt and pepper, and you're good to grill the meat.
Set your stuffed patties on the grill, over the direct heat.

Place the bacon on the indirect side of the grill.

Grill the patties for 6 to 8 minutes. Don't flip more than once.

Grill the bacon for 6 to 8 minutes.

Toast up the hamburger buns by buttering the insides and setting them over direct heat for 2 to 3 minutes.

Plop those delicious stuffed patties on the toasted buns, and top with bacon, onion, tomato, lettuce, and blue cheese crumbles.

Grab a huge stack of napkins and enjoy.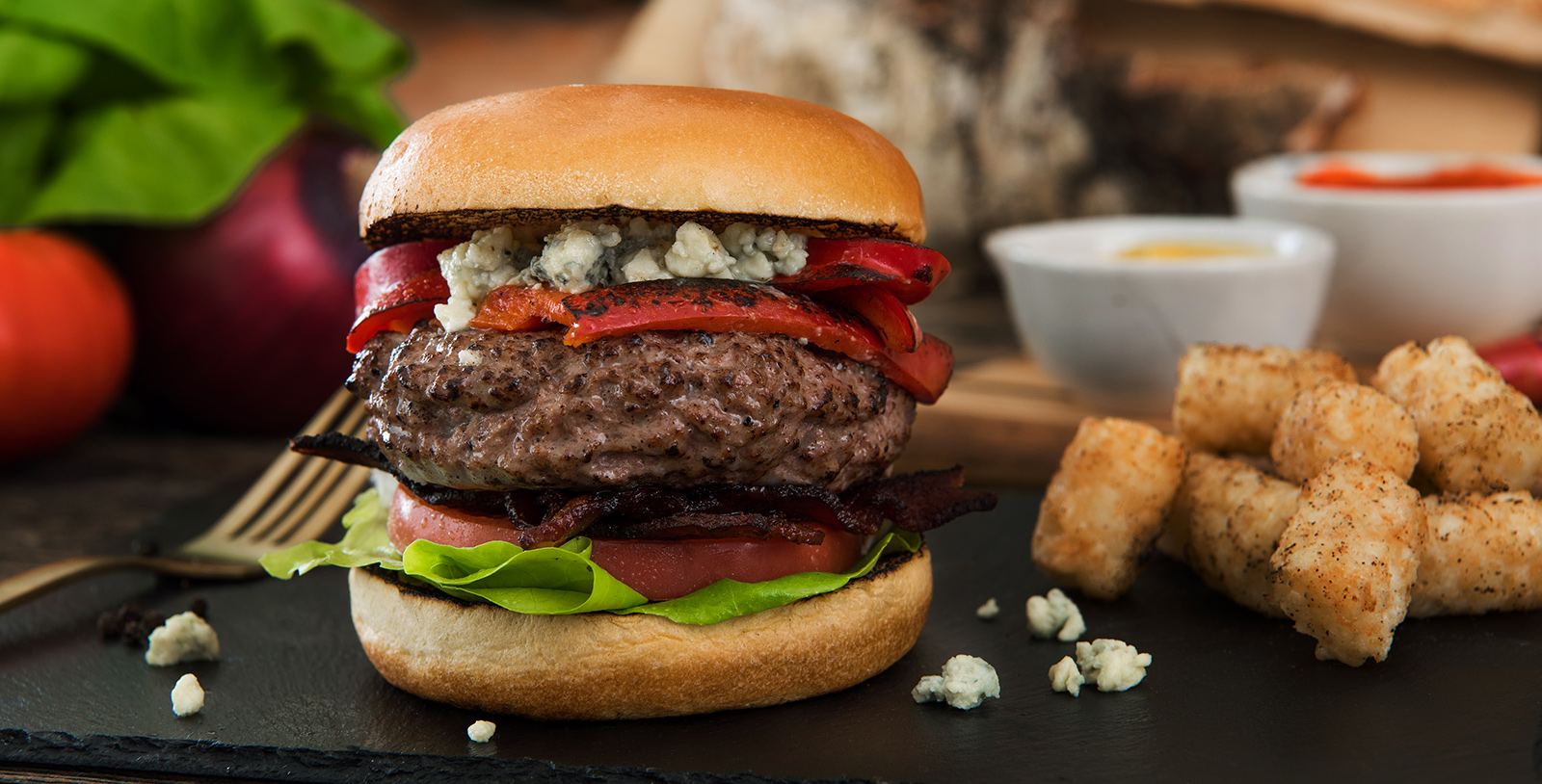 Let's be friends!
If you don't already, follow us on social media and fill us in on all your grilling adventures using #HungryForDifferent. We promise to keep you up to date with all our latest grill tips, stories, recipes, and more—everything you need to stay satisfied between cookouts.
Try Pairing It With These Other Recipes
---
Everything You Need To
Make This Recipe
---