Vegetarian
Roasted Fennel, Crispy Garlic & Shallots on Angel Hair
---
Grilling Recipes
We Were Such Stubborn Eaters
Growing up, my extended family had a lot of dinners together, and I remember how hard it was for my parents, aunts and uncles to find recipes that please everyone. One night, my grandmother proudly announced her dish as, "Roasted Fennel, Crispy Garlic and Shallots on Angel Hair!" Immediately, my baby cousin started bawling and screamed, "Why would you cut off an angel's hair!?" Just when grandma thought she had made everyone happy…
I swear though, this recipe just may be straight from heaven. Thanks to a lighter Parmesan cheese, this dish hits the spot without making you feel so full that you can't move.
Ingredients
1 box Angel hair pasta, cooked
1 cup Olive oil
1 fennel
3 cloves garlic
1 cup shallots
3 tbsp. Parmesan
Preparation
---
Finely mince garlic and shallots.
Boil 6 cups of water.
Cut fennel into rounds.
Grill fennel.

Warm Olive oil over medium low heat. Place shallots and garlic in a pan and let them slowly crisp.

Place crisped shallots and garlic onto a plat with a paper towel to drain oil.

Boil pasta according to directions on box.

Place cooked pasta into a pasta bowl and power the olive oil used to crisp the shallots and garlic over the top and toss.

Add the fennel, garlic, shallots and parmesan cheese and olive oil to taste and toss.

Mix fennel, garlic and shallots with cooked angel hair pasta. Top with shaved Parmesan and olive oil.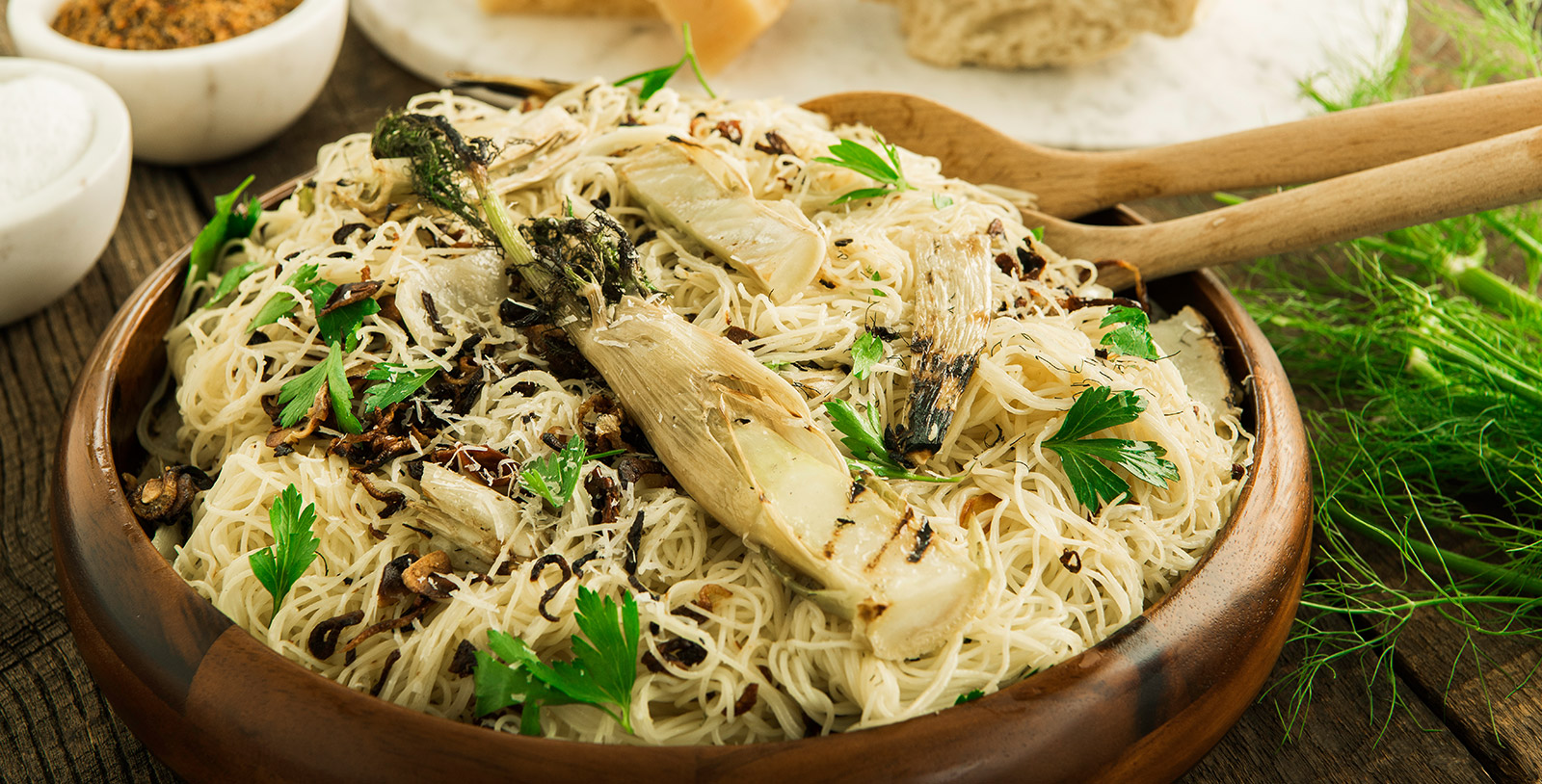 Let's be friends!
If you don't already, follow us on social media and fill us in on all your grilling adventures using #HungryForDifferent. We promise to keep you up to date with all our latest grill tips, stories, recipes, and more—everything you need to stay satisfied between cookouts.
Try Pairing It With These Other Recipes
---
Everything You Need To
Make This Recipe
---